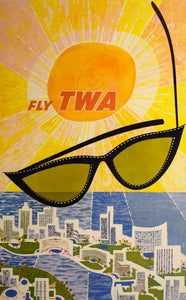 Posters
TWA Poster - Miami
David Klein captures the glamour of 1960's Miami with a pair of giant sunglasses floating over the hotels of South Beach.
Trans World Airlines was one of America's major airlines. Howard Hughes joined TWA in 1939 and had a controlling interest by 1944. He is credited as the driving force behind the Lockheed Constellation, personally financing the acquisition of 40 planes for TWA. These allowed the company to pioneer a non-stop transcontinental service in the 1940's and 1950's. With the coming of the 1960's and the jet age, TWA started operating Convair 880's and the profile of the planes on their posters changed to reflect this.
David Klein worked as an art director in New York and was most influential when working for TWA. He captured the glamour of post-war travel and the excitement of the jet age in dozens of posters he designed and illustrated for the airline.
TWA
1960's
David Klein (1918-2005)
25 x 40" (63 x 101cm)
Linen backed 
Good condition - more imags available on request
Regular price
$1,547.20
$0.00
Unit price
per
---