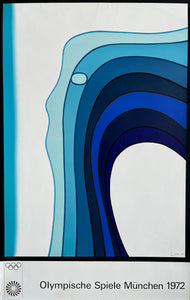 Posters
1972 Olympics Poster - Jan Lenica
Jan Lenica was born in Poznan, Poland in 1928. He worked as a graphic designer, illustrator and cartoonist. His work is held museum and private collections around the world, including MoMA in New York. 
'The graphic imagery of the 1972 Games is well regarded. Posters were high on the agenda for the Olympic Committee and planning was underway as early as 1967 to produce an art series using the best artists of the day. In 1968 a partnership was formed with the publishing house F. Bruckmann KG, Munich, setting up the company Edition Olympia 1972, GmbH. The project ran to five series, each made up of seven posters. Three grades of poster were produced in a hierarchy of values and the majority of the surviving posters are from the unlimited edition printed on poster paper.'
Margaret Timmers is the author of a highly recommended book - A Century of Olympic Posters.
Jan Lenica (1928-2001)
64 x 101cm
Unbacked
Good condition
Regular price
£225.00
£0.00
Unit price
per
---